Minister Brian Pittman

, Minister of Music
Minister Brian Pittman is a songwriter, producer, preac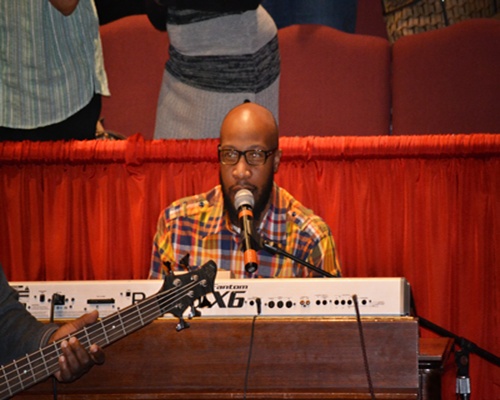 her, minstrel, mentor and most of all, a worshiper. Brian was born and raised in the city of Chester, Pennsylvania and became a very strong influence and role model for many young people pursuing music and ministry. As he matured in his gifting, his gift began to make room for him outside of his immediate environment as doors and opportunities began to swing open for him.
He is the Founder & CEO of Pittman Christian Music Group and the Founder and Lead Teacher of Youth Alive Nation Church. Brian also shares his gifts with other churches. He is the Director of Music and Arts at the Historic Union Baptist Church, in Allentown PA. under the leadership of (Pastor Benjamin T. Hailey Sr.). He serves as the National Youth Pastor at Pentecostal Methodist Evangelical Church (Dr. Andrew Holtz) and mentors the young ministers who partner with this ministry.
He has traveled and continues to travel extensively as a clinician, musician, conductor, songwriter, artist and preacher throughout the country. His gift has taken him as far as Europe. Minister Pittman is a trail blazer. Known for his inspiring compositions, life changing teachings and his passion for worship Brian is even exhorted as one of the tri-state areas finest musicians. Recently becoming the first songwriter in his area to teach and conduct an original composition to the world's largest gospel music convention (James Cleveland Gospel Music Workshop of America).
Brian Pittman has written three nationally recorded songs – "You Deserve", "Awesome" and "Rejoice in His Presence". He has accompanied National and Local recording artists such as Beverly Crawford, Stephen Hurd, Craig Hayes, John Gray, the Wilmington Chester Mass Choir and more. His music can be heard on albums by Thomas Dorsey Convention, Leslie Parker, Ebenezer Baptist Church, Moye Ensemble, Tia Pittman, Ernie Saunders, California State University and more.
A young man himself, Brian Pittman has spent his life walking in his anointing of ministering through music and ministering to the youth and young adults.
Brian Pittman is the proud father of four beautiful children, Tasjon, Taylor, Brian and Christopher. He has become a role model to many young people who look to him to mentor them as they walk out the call of ministry on their lives. He takes very seriously the responsibility to impart Christ through music, teaching and preaching to all who would come near. Minister Brian Pittman understands that this talent is a gift from God. He works hard to cultivate that gift, and to share it generously with the Kingdom of God.