Youth & Young Adult Retreat 2021
Recalibrating our Church - Making the Hard Decisions
21st Century Sessions Geared for Our Youth and Young Adults in This Post Pandemic
The hallmark of the Retreat is providing 21st Century Sessions and Fellowship in a Christian context where the reality and relevance of God is taught. For the weekend retreaters enjoy wood life and a host of exciting, wholesome activities.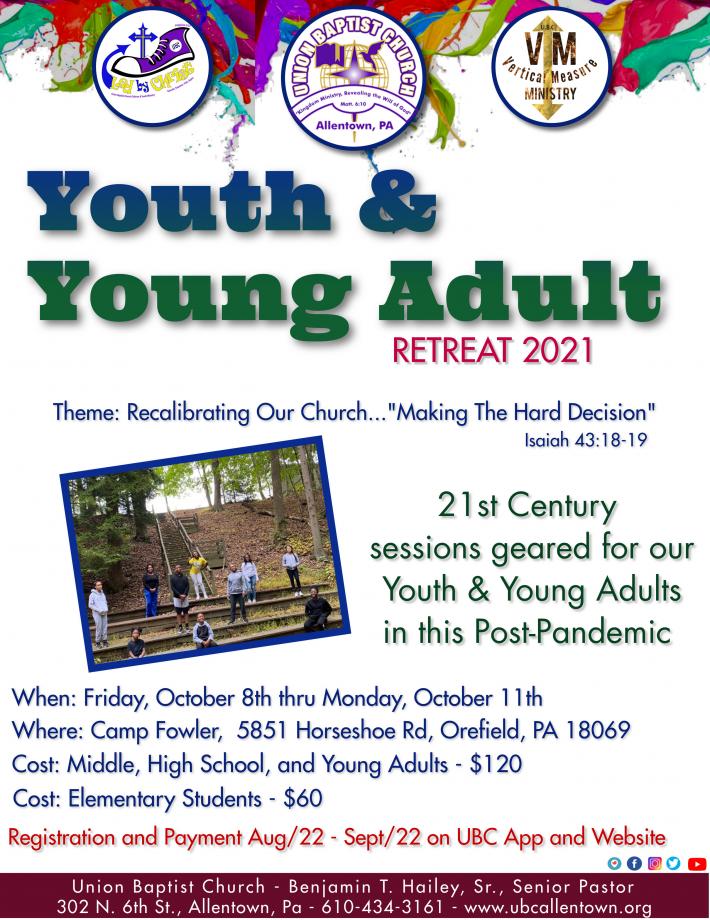 Where: Camp Fowler, 5851 Horseshoe Rd, Orefield, PA 18069
When: Friday, October 8th thru Monday, October 11th
Cost:
- Middle, High School, Young Adults - $120
- Elementary Students - $60
- Adults - $130
Includes:
Accommodation
Meals
Retreat T-shirt
Materials

Payments can be made Starting August 22nd with a non-refundable deposit of $20
The final payment is due September 22nd.
For more information email lbcyouth19@gmail.com
---
What to Bring:
Bed Linen
Pillow
Toiletries
Change of Clothes
Bible & Devotional Book
Notebook
Pen / Pencils
Water Bottle
Shoes/Sneakers
Bed Slippers
Plain White T-shirt(craft)
Bug Spray
Sweater (chilly mornings or evenings)